31st July 2019- Rinpoche la began his talk by introducing  how "Modernity" is perceived as an opportunity and not a challenge- that according to him is a wrong and a very big misconception. It is more the other way around if not opposite'.
Further , Rinpoche la discussed what "Ethics" means and why is it need of the hour? And how can individual effort bring change?
Event Organizers : 
1. Central Institute for Buddhist Studies, Deemed University, Leh
2. Flowering Dharma
3. SEBoL
Venue : Arya Nagarjuna Auditorium Hall, CIBS, Leh
Date : 31st July 2019
He talked of how the term "ethics" has multiple meanings and how to truly understand ethics. He made distinction between two types of ethics – one that is rooted to a certain region and  belief system  and the other category of ethics which is more universal in nature.  According to Indian wisdom tradition Ethics is philosophical expression such as good conduct /good behavior. In simpler words, any action, which directly or indirectly is violence-free is ethical in nature.
However the concept of violence is again shrouded in dilemma. Like in few Indian tradition violence act committed in order to defend self is ethical, which is not accepted by the Buddhist and Jain traditions. According to Gandhi, truth, non-violence and ethical conduct are all synonyms.
Here the question arises, how does one understand violence? Rinpoche la defined violence in terms of  individual and collective or structural violence.
Rinpoche la also stressed that at present structural violence is one of the greatest threat. He also shared the quote by M. L. King-  in today's time we do not have the luxury of choosing between violence and non-violence. The only choice left  is in between non-violence or non-existence/complete destruction.
In terms of ethics in education, he emphasized on how the method of education should have non-violent approach.  And also talked of the four components of ethics namely-
1. Ethics of Restrain
2. Ethics of Virtue
3. Compassionate Mind
4. Wisdom/power of discrimination
He explained how a compassionate mind cannot act in the absence of wisdom  and also laid the emphasis on being able to understand one's emotion, value them including the negative ones and practice mindfulness.
The present school system has many stake holders including the parents, child, teacher, school administration, society, text book , etc, It is essential that schools and all the stake holders be equipped with the right view. We should not consider reward, punishment, evaluation, competition as the best method of education.  Students should not be considered as a human resource material to be sold to the market of employment. Instead of standard of education decided upon how much they satisfy the need of the corporates, schools should encourage the basic intelligence and potential of each student. Schools should not be restricted to a set course of syllabus, in form of indoctrination. Rather Education should focus on – protecting and promoting the independent consciousness of an individual, such an independent conscious has the ability to serve others, and in turn a consciousness births innovation into the life .
When it comes to talking about ethics in economy, Rinpoche la explained how our economy should be based on needs and not greed. Similarly in policy making the most important thing is to understand and realize the aspiration of the people with the absence of self-interest.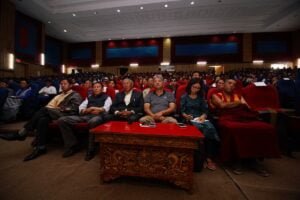 Concept : Through examining the intersections between the problems, economic and social  crises, the 6 day  talk offered participants a holistic, 'big picture' perspective, through which meaningful solution. As our traditional culture and philosophical traditions teach us, stability of identity and emotional wellbeing have always been rooted in community; we can't be well in isolation. But the modernity is speeding up the pace of life, commodifying our basic needs, and turning us into individual consumers in competition with each other. In light of such challenges, how can we reweave the fabric of community to support the wellbeing of people and the Earth? What needs to be questioned? What spiritual transformations are needed? And what kinds of political/economic and Educational shifts can lead us there?
Video : Coming soon